Samsung Gearing Up to Release New Earbuds, Leaked Photos Show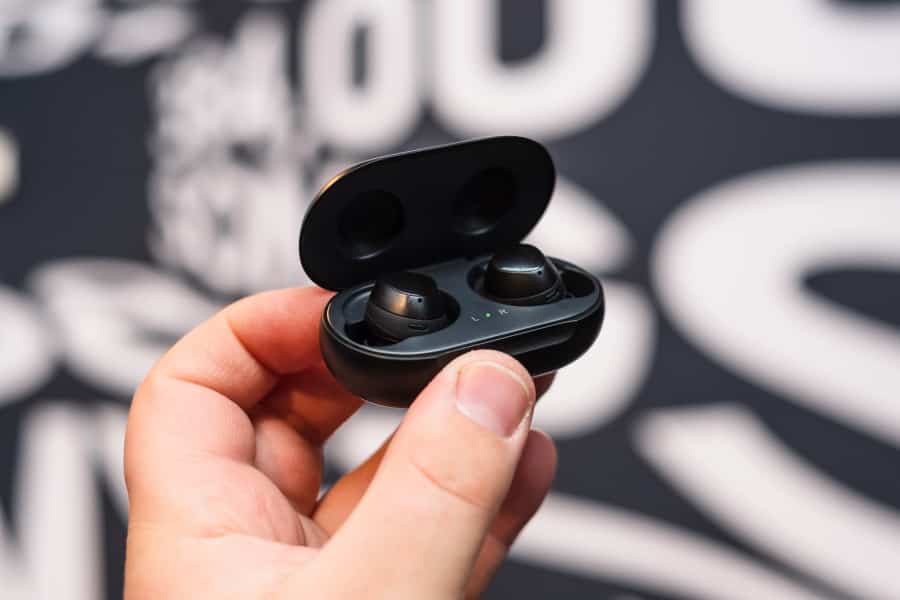 Leaked photos reveal that Samsung may be rolling out new wireless earbuds this year. Rumors say the buds might be called "Galaxy Buds Live." This release might shake up the industry in a slow year, affected by the coronavirus. Google had released its pair of wireless earbuds, but complaints from users hurt them. With that, Samsung's only proper rival is Apple. We'll soon see how these new earbuds match up with the latest AirPods.
Samsung's Product Rollout
The leaked photos first appeared in the German tech site Winfuture. Gizmodo reports that the new earbuds differ from the old Galaxy Buds+. The new ones show a bean-shaped earpiece, with speakers in the middle. Two microphone holes also appear on both ends. Guesses say that these speakers might block outside noise.
Gizmodo adds that the earbuds measure about 2.8 cm long. The rear end goes inside the ear, filling out the upper part of the ear canal. In the buds' lower part are the speakers. There may also be a sensor that should detect if the buds are in the ear. From Winfuture's leak, Samsung's earbuds don't seem to offer active noise cancellation. Fans of the AirPods Pro can relax.
According to Forbes, these new earbuds might be part of Samsung's new rollout this year. They plan to release the buds in July, together with the new Galaxy Watch 3. In August, Samsung also plans to launch the Galaxy Note 20 and Galaxy Fold 2. Even with the pandemic, the Korean giant looks forward to a busy summer this year.
Other Earbud Competitors
Google's Pixel Buds might be popular, but it faces lots of complaints. Some users have called the buds "unusable." Connectivity issues also plague the device. In some cases, the audio suddenly cuts out. Other users have also grumbled about uneven battery life.
Meanwhile, Apple's AirPods Pro continues to run the market. Its active noise cancellation feature is their selling point. The design also ensures it fits all ear sizes perfectly to keep out ambient noise. Also, the new model fixes what some consider design flaws in the original AirPods. Older AirPods do not nestle into the ear. Instead, they hang on the ear's edge. If you use them while working out, they could fall off your ear.
However, AirPods Pro's battery life might disappoint users. It lasts for only 4.5 hours. If you use them while working, they might cut off on you. In most cases, one ear might run out of juice before the other. Not only that, but most new earbuds last for more than 5 hours. Like all Apple products, the AirPods Pro are also very expensive.
If the price and battery life are deal-breakers for you, you might look out for Samsung's new earbuds.  Samsung should announce further details about them very soon.